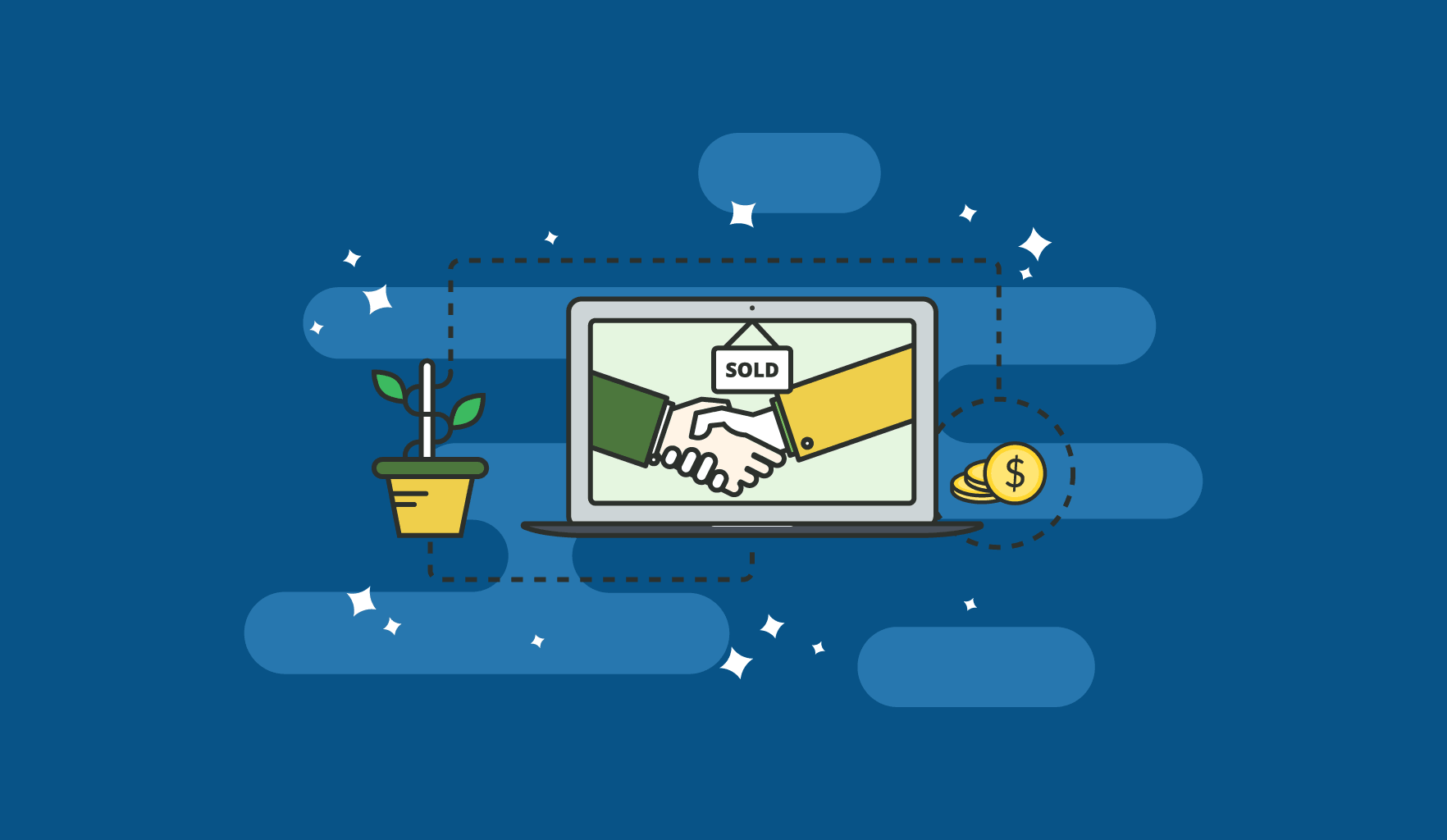 All the numbers shared in this case study have been taken from the official sales document handled by the guys at FE International and have gone through extensive due diligence. It was important for us to have a 3rd party be a guarantee of all the numbers we shared here to avoid the hype that usually plagues this industry. Enjoy the case study :).
We have just sold a site from our portfolio for a very acceptable mid 6 figures amount.
The fun part?
This site was only 18 months old.
Here's the story of this site and how we got it so high, so quickly…
About 1.5 years ago, we started further expanding our portfolio with new sites, which we did not disclose publicly.
These new sites quickly outpaced our other sites in growth and monetization efficiency early on.
To the point where we decided to focus our effort on these properties instead of our older ones back in May of 2018.
In today's post, I will share the story of how we started and grew one of those sites and how we sold it for mid 6 figures in just 18 months.
But before we get started, here are some stats for this website so you get an idea of the trajectory we achieved with it in 2018 despite all the Google updates.
Graph provided by FE International
This site was very much a side project. As a portfolio company, we run a number of sites, not to mention AuthorityHacker.com itself which takes up the majority of our time.
If you want to hear about what else we achieved last year, we've recorded a podcast that sums up the year for us.
The Money
I know you guys want to see what the financials of the site looked like when we sold it.
To make it short, the site was making about $15,000/month ($180,000/year) and cost us about $3,500/month ($42,000/year) with content creation, link building and hosting.
I did not add tool costs because we split these costs across our whole portfolio but you could add $200-300/month of tool costs if this was your only business.
Here is the monthly ramp up and P&L for this site:
| | Commissions | Content | Link Building | Hosting | Total |
| --- | --- | --- | --- | --- | --- |
| Dec 17 | +$210 | -$2950 | -$530 | -$30 | $3300 |
| Jan 18 | +$921 | -$2950 | -$530 | -$30 | -$2,589 |
| Feb 18 | +$971 | -$2950 | -$530 | -$30 | -$2,539 |
| Mar 18 | +$2,113 | -$2950 | -$530 | -$30 | -$1,397 |
| Apr 18 | +$3,373 | -$2950 | -$530 | -$30 | -$137 |
| May 18 | +$4,291 | -$2950 | -$530 | -$30 | +$781 |
| Jun 18 | +$8,374 | -$2950 | -$530 | -$30 | +$4,864 |
| Jul 18 | +$10,822 | -$2950 | -$530 | -$30 | +$7312 |
| Aug 18 | +$12,232 | -$2950 | -$530 | -$30 | +$8722 |
| Sep 18 | +$13,926 | -$2950 | -$530 | -$30 | +$10,416 |
| Oct 18 | +$12,736 | -$2950 | -$530 | -$30 | +9,226 |
| Nov 18 | +$15,692 | -$2950 | -$530 | -$30 | +$12,182 |
| Dec 18 | +$14,400 | -$2950 | -$530 | -$30 | +$10,890 |
| 2018 | +$100,061 | -$38,350 | -$6,890 | -$390 | +$54,431 |
Let me break down what each line includes.
Affiliate Commissions: This is the money that came in each month when you add up all the commissions from all the affiliate offers promoted on the website.
Content Creation: This cost includes outsourced content writers, editors, illustrators and any other cost that went into creating what you can see on the site. Content specifically for link building is also included in here.
Link Building: Any staff and tool costs associated with acquiring links to the site. Since we don't pay for links, this cost stayed fairly low.
Hosting: Any cost related to serving the files of the site (namely hosting + CDN)
Picking the niche
Because we sold this site and out of respect for the buyer, I can not disclose the exact niche this site is in on this post. I also can not reveal the exact price we sold the site for or any information that would allow you to trace the site back (and trust me I've traced a lot of sites back).
Sorry guys.
However, I will go as far as saying that this site is in the software niche.
What I can also share, is how and why we decided to go after this niche.
What was the thought process and how can you apply it to your own niche selection.
How advanced SEO's should approach niche research
Before I get started, let me say who this process is for.
Mark and I are not beginners anymore and this massively changes the way we approach niche research.
We have done this dozen of times and built many successful sites over the years.
We have also worked in extremely competitive niches such as travel or finance, back when we had our agency.
As a result, we have gained enough self-confidence to know we can do ok in most niches.
If you are a beginner, this process will be significantly different and has been outlined in The Authority Site System.
So if you are just getting started, this part is not for you.
But if you are an advanced marketer, hear me out…
1 – Affiliate Payout
Obligatory Analytics screenshot here showing the traffic growth over 2018, until we listed the site for sale.
But hold on a sec.
We've been saying for years that traffic on it's own doesn't mean jack. It's a vanity metric.
What matters is how much money this traffic actually generates for you.
In the past, we've built sites that get upwards of half a million monthly visitors.
But despite having just a fraction of the traffic, this site made more money than sites with far more traffic.
Why?
Simple: it makes 6-8x more money per visitor.
This means that need a lot less traffic to make a lot of money
How?
The answer is simple: Affiliate Offers Payout.
The products we promote on this new site generate 30-70% commission rates. Compare that to the Amazon Associates payout rates of 3-8%.
In the affiliate world, the payout disparity is massive.
Some offers will pay you $0.5/lead while others will pay you $1000 per sale.
These differences are usually indexed on paid traffic competition and value per lead for the company.
If the competition and CPCs are high, the payout is high.
If the competition and CPCs are low, the payout is low.
And to some extent, it does translate to SEO competitiveness as well.
Good luck trying to rank for casino offers related keywords.
These keywords are nasty.
However, for everything between casino offers and Amazon, one thing we have noticed is this:
The variation of SEO difficulty is almost always much lower than the variation of offers payout.
What does this mean in plain English?
It means payouts grow faster than SEO competition and the resources it takes to compete in most niches.
Therefore, as an advanced SEO, it makes more sense to focus on the highest payout niches because you will get more return for your effort despite the increased difficulty.
I hope I don't change this status quo with this post :/. *expecting some angry emails from friends*.
BUT
This only works if you're an SEO Sensei. If you are a beginner and you can't cope with the competition, chances are, you won't do well in competitive niches.
All of this to say, a large part of our niche research was to identify markets with high earnings per sale and it clearly paid off.
But this wasn't the only thing we looked at.
2 – Family Friendly
Another important criteria for us was that the niche is family friendly.
I did bring up the idea of the male sexual enhancement niche to Mark a few years ago but he immediately said no because his mom would probably disapprove.
Alright.
But more seriously.
We are known to build all our links with white hat outreach and this is what we are good at.
We build links, lots of them, all without paying for them (and actually doing what Google wants webmasters to do).
Here is a snapshot of the site we sold's link growth.
I think we did a pretty a good job especially considering this was not the easiest niche to build links in.
The problem is: If your site is about some kind of weird sex toy or diet pill, almost nobody that's not compensated will link to you.
And a lot of our core strength falls flat.
For people relying on PBN's, this is less of an issue, but for us it was important.
3 – The product is not crap
Call me soft if you want but I don't like making the world a worse place.
Unfortunately, this statement is often incompatible with high payouts.
Many companies pay their affiliates a lot of money to compensate for a shit product.
That's basically the hot/crazy scale of affiliate marketing.
Finding one that sells good stuff AND pays well was a challenge, but we managed it.
If your ethical sense is more flexible than ours, once again, this is a non-issue, but not for us, unfortunately.
Another thing I would add to this category is the quality of the product's sales page.
Many high-quality products have a TERRIBLE sales page.
Sorry, let me rephrase.
TEEEEEERRIBLE.
Here's an example for an NLP course I would probably stay away from.
4 – Lots of decent volume keywords
Another strength of ours was large content production operations so we knew that we would do better in a niche where traffic is split amongst hundreds of keywords.
Many people struggle with this meaning we have a competitive advantage here.
The final site ended with 240 published pages at the time of sale, most of them targeting decent volume commercial keywords mostly.
5 – Growth over time
Because we never know how long we will hold our businesses, we always want to get involved in niches that are at least stable or growing.
The niche we picked has a steady long-term growth so it was perfect for us as you can see by the Google trends screenshot below.
How we settled for this niche
Once you have put your criteria together, it's just a matter of looking at niches and see if they tick the boxes.
And that's exactly what we did.
Every time I browse the web and come across an interesting affiliate or authority site, I bookmark it just in case.
Additionally, multiple sites provide premade affiliate research and/or affiliate program lists.
Here are a few of them.
Premade affiliate researches:
Here are some other cool sites that regularly release niche researches you can use:
You should also check the big affiliate networks and popular independent programs. We made a post dedicated to this too.
 We browsed these and found a niche that ticked all the boxes mentioned above and went for it.
Planning the site
At the time, we had no idea how far we wanted to take this project.
It was more like, let's see what we get.
When we are in this situation, we like to brand broad so we can expand many categories on the site if it is successful.
So we didn't just focus on the main software category we planned on publishing.
We went up 1 category level and branded around that.
However, most of our content was developed in the one main subcategory we initially picked.
This is what the sitemap looked like:
The non-developed silos were just a single placeholder page waiting for their turn.
This allowed us to make the navigation consistent with the branding of the domain without having to massively invest in them.
The silo we did decide to develop on the other hand, not only focused on the "easy" keywords but rather took the approach to build a site that covers the topic comprehensively.
This means we did create a lot of pages for keywords we had little chance to rank for in the short and medium term.
But all the top ranking sites had pages targeting these terms so we thought they were important to be seen as a resource on the topic so we…