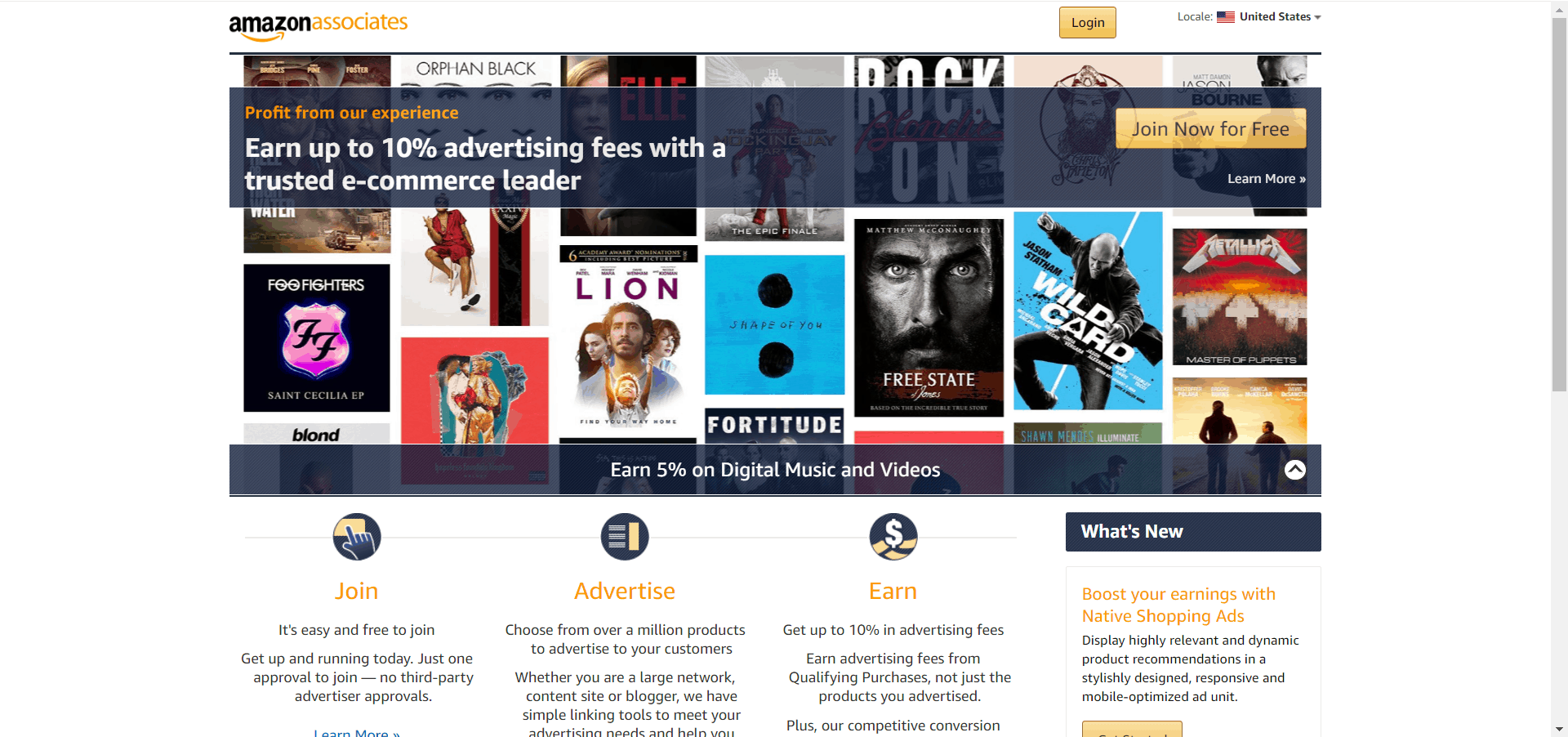 Amazon is the old bread and butter for many affiliate sites. These sites are so popular that there's a whole category for Amazon affiliate sites in brokerages like Flippa and Empire Flippers. Maybe it's just that "Amazon affiliate site" rolls off the tongue a lot better than "Wayfair affiliate site". Or maybe it's just that Amazon is so stinking awesome that it's hard not to monetize your site with them.
Amazon is popular, easy to use, and viable for a huge portion of niche sites. But they have a reputation for being about as clear as mud on their policies. They are sometimes hard to understand and hard to deal with. Amazon tosses the ban hammer around so much that they could be mistaken for a tall, blonde Avenger.
In this Amazon affiliate program review, we're going to look at whether Amazon is still the best option for your site today. The Amazon affiliate program is known as Amazon Associates. You'll see both names used in this review, but they mean the same thing.
Let's get started.
Click here to join the Amazon Associates Program
Amazon Affiliate Program Review
Summary
Amazon Associates provides a powerful way for you to monetize your website. They can be a little tricky to deal with sometimes, but there are a ton of products, the commissions are often great, and Amazon is super easy to use.
Pros
Tons of products to review
Competitive commissions
Very easy to use
Support is always very nice
Cons
Might not be best for some very specific niches
TOS is about as clear as mud
Support often gives contradictory information about Amazon policies
Amazon Affiliate Program Review
In most of my reviews, I start with a tutorial so that new users can see how the product works. Since there are tons of Amazon affiliates, I'm going to assume that many readers already know how to navigate the affiliate dashboard. So for this post, the tutorial is after the review. 
Let's get started with one of the most important things: Amazon's commission rate.
Amazon Affiliate Commission Rate
Amazon gets a little bit of flack for their commission rate. Here's how their commission rate looks right now:
Since Amazon offers such a huge range of products, there's a wide range in affiliate commissions. You'll get a whopping 10% if you're promoting luxury beauty items, but a non-bill-paying pat on the back if you're promoting wireless service plans.
Another option for your affiliate commissions is the Amazon bounty program. Bounties are payments that Amazon makes to you if someone subscribes to an Amazon service after using your link. These bounties range from $3 when someone joins a trial to a healthy $15 if someone starts an Amazon business.
These bounties are great since Amazon offers so much. Someone might go on your website to buy a lawnmower and end up with an Audible subscription. You get paid for both.
But Doesn't Amazon Pay Less Than Other Affiliate Programs?
Let's take a look at some comparable affiliate programs and see what commissions everyone is offering. I checked 3 potential niches and found some popular affiliate programs in each. You can see the affiliate payout and the cookie duration.
| | | | | |
| --- | --- | --- | --- | --- |
| Network | Amazon | Wayfair | Designer Living | Best Buy |
| Furniture | 8% | 7% | 12% | 7% |
| Cookie Duration | 1 day | 7 days | 30 days | 1 day |
Amazon is pretty competitive in the furniture niche, but it looks like Designer Living blows everyone out of the water. Their percentages are high and cookies are super long. If you're in the furniture niche, I bet you can find better deals with specialists (Designer Living) than with generalists (Amazon, Wayfair, Best Buy, etc).
Websites that sell nothing but furniture may be able to give you better payouts.
| | | | |
| --- | --- | --- | --- |
| Network | Amazon | Home Depot | Ace Hardware |
| Tools | 5.5% | 3% | 5% |
| Cookie Duration | 1 day | 1 day | 14 Days |
Amazon is competitive in the tool niche. This includes things like power saws, hammers, or drills. You can see that Ace Hardware kills everyone on cookie duration, but Amazon has a higher payout. You'll do fine with either company.
Just don't go with Home Depot.
| | | | | |
| --- | --- | --- | --- | --- |
| Network | Amazon | Microsoft | Best Buy | tiger Direct |
| Computers | 2.5% | 1% | 0% | 3% |
| Cookie Duration | 1 day | Unknown | 1 day | Unknown |
Amazon does a pretty good job in the computer niche as well. I was going to include the Apple affiliate program, but they're very picky about sites they let in.
You can see that Amazon has a higher payout than Microsoft and Best Buy. Tiger Direct beats out Amazon by 0.5% and may have a longer cookie duration. I wasn't able to find any info on their cookies.
I couldn't look at every niche, but I think that Amazon is more than competitive for most niches.
Amazon Commission Rate Isn't Great At…
Amazon's greatest weakness is their cookie duration. 24 hours isn't a long cookie, but there is an exception.
If someone adds a product to their cart, Amazon gives you a 90 day cookie on that product. That means their potential 24 hour cookie can be extended by a whopping 89 days. Some tools like Amalinks Pro or AAWP allow you to add a product to a visitor's cart when the visitor clicks your link. This gives you immediate access to the 90 day cookie and may be worth testing on your site.
Amazon Commission Rate Is Awesome At…
Amazon's greatest strength has 2 parts:
You get commission on any products bought within your cookie
Amazon is a master at converting
Part 1 of Amazon's greatest strength means that someone can use your link to buy a lawnmower and then buy some bath bombs. You get commission for both items at their different commission rates.
Part 2 means that Amazon does a great job (perhaps better than anyone else) at making sure that everyone buys more stuff. Amazon is always split testing their platform. They are always recommending new products and products that they think your visitors will like. The odds of someone buying a product you recommend and then being upsold is high.
I read a lot that Amazon gives low commission rates. Perhaps in some categories that's true. But I think that for 75% of affiliates, Amazon is more than competitive. Even if their cookie duration is low, the frequent upsells make Amazon a high-paying affiliate program.
Ease Of Use
Amazon has a super easy-to-use affiliate program. You can get any of the links you need by searching for the product on Amazon and using SiteStripe to get your link. I show you how to get links using SiteStripe again in the tutorial, but here's how you do it.
When you log into your Amazon account and go to Amazon's home page, you'll see a bar at the top of your screen:
This is called SiteStripe. To get affiliate links, search for the item you want to link to. Once you've found it, you can click "Text", "Image", or "Text+Image" on SiteStripe. I don't use the "Text+Image" option since I don't think it looks great, but it could fit on some sites.
After you find the product you want, click on the type of link you want from SiteStripe. Copy and paste.
If you're getting an image link, the large option is almost always best. Even at its biggest, the large is pretty small.
What About Amazon's Terms of Service?
This is where Amazon loses some points on ease of use. Their terms of service are as clear as mud and about as pleasant to roll around in. Even professional SEOs run in to problems with Amazon's TOS.
If you're caught red handed violating a rule that you didn't know about, Amazon can be a little merciless. They are often unclear about what the problem is. Some people have been able to reverse bans by sifting through the TOS and fixing their site, but this can be tough if you're a solopreneur.
Remember that even though Amazon can be unclear, they want you to promote their products. They want you to be a part of their affiliate team. Reinstatement is difficult yet possible.
But as with all problems, prevention is better than a cure. So here are some of the most common violations and things you should never do:
Download Amazon images (instead, use SiteStripe)
Use Amazon's star ratings or star ratings that look similar to Amazon's
Mention Amazon reviews
Mention price
Use affiliate links for your own purchases
Use affiliate links in email (instead, send emails with links to your review articles, but never link to Amazon)
Shorten links outside of Amazon (using the short link in SiteStripe is fine). There is an exception if you make it clear that your links are going to Amazon; I discuss this later in the Questions From You section
Have explicit content – nothing adult or profane is allowed
Have thin content – content must add value to reader
Those are the most common violations, but there are quite a few. Read Amazon Associate's operating policies to be sure.
Support
Amazon's support can be super nice and easy to talk to, but they're often pretty unhelpful.
Support for Associates will let you send an email, call someone, or chat during certain hours. I've never spoken to a support rep who wasn't American and never had to deal with a language barrier.
But when the time comes to figure out a compliance issue or ask a question that isn't super clear cut, there's often some confusion. The problem isn't the support reps; they're great. I've never had an experience where a support rep didn't go out of his or her way to help me.
The problem is Amazon. They're so big that their policies are often confusing even for employees. It's no rare thing to get contradictory answers from different reps. They can't help much with compliance, can't do anything at all about API access (I discuss this later). But they do try their best.
Amazon has a rockstar support team, but their policies seem to be a shifting sand that no one can quite hold on to.
Pros and Cons of Amazon Associates Program
Let's take a moment and look at what Amazon does well… and what they don't.
The Good
Tons of Products to Promote
Amazon might have the widest range of products to promote out of any affiliate program in the world. It's suitable for a lot of niches with physical products.
Competitive Commissions
Amazon's commissions are competitive for most niches. The cookies are short (1 day), but if a customer adds an item to cart, that cookie rockets to 90 day duration. 
There's also the benefit that you get commission on everything someone buys within 24 hours of using your cookie. Amazon is a master at converting and upsells. Your customers might go to Amazon from your link to buy a sewing needle and leave with a lawnmower.
Very Easy To Use
SiteStripe makes it super easy to add your affiliate links. If you can get API access (I discuss this later, so keep reading) then you won't have to do anything on the Amazon side at all. Everything…